With this article, let's find out what you should consider before buying plastic jars wholesale. Plastic jars are very much required to store different products of different industries and many a time, the product is much affected by the type of container you use to store it. Especially, those that you use in the cosmetics industry could have a different make from those that you use in the pharmaceutical industry or food industry. Of course, there are numerous other industries using many different types of containers to store, transport, and protect certain products and stuff. Containers are highly utilized in various industries like labs, sciences, specimens, and various other general uses. Whichever is your industry, the specific purpose of the product may require its container to have specific qualities.
Working a container for your product needs to be meticulous and for the task, you absolutely need expert help. The reason I would say – is because you will be mass-producing your product and that product goes straight in the container you get designed and manufactured in bulk quantities. If anything goes wrong with the container manufacturing – the rest need not be explained to you!
Why Plastic jars are convenient as a storing method for certain industries?
However, for all the aforesaid purposes as to where and why a container is needed, plastic jars are the most celebrated. Plastic Jars wholesale purchase is therefore very much in demand. A plastic jar for storing is much efficient than a glass jar, especially because it is lightweight. For that very reason, any formula or product you will want to pack into these jars can be done in greater quantities for a much less price than in a glass jar. Plastic jars also have the luxury of lasting for long periods since they can withstand many possible day-to-day situations of potential damage. In other words, they won't easily break even if you drop them. So durability is generally an attached quality for plastic jars.
Using plastic jars also gives you the opportunity to bulk your product into these jars without having to worry about the container in particular. Above all these benefits of using plastic as a container material, plastic jars wholesale buyers also benefit from the fact that it is comparably low in cost to do a plastic jar for storing purposes than doing glass jars. For instance, imagine the conveniences of using plastic make in the container for cosmetic jars wholesale buyers. It is very cost-effective. Since plastic also has this very functional quality of absorbing smells into the walls, cosmetic products can store not only the product inside but also the smell of the product which could become very attractive in utility.
Recyclability
Not just for those reasons, plastic could be a necessary material for storing products because of its large availability for recycling. Today more plastic is put into recycling than any other material such as glass. So the plastic convenience is higher both in utility and plastic jars with lids bulk production. Since it is also a material that has easy printable quality, buyers mostly have the opportunity to get complex designs, letters, and logos printed on plastic jars and that is one good opportunity for creative marketing for a rather low investment.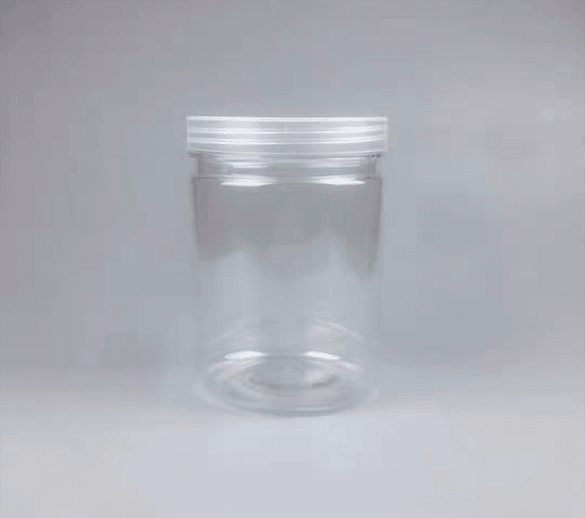 How to define your container for your industry?
Containers as mentioned before are an unavoidable requirement for very many industries. So the container is equally important just like the product itself. You can define the type of container you need for your product based on certain aspects of the container and adjust those aspects to suit your industry or product specifications.
The thickness of the Container Material
The thickness of the jar walls can really affect many aspects of the business from the product itself to marketing opportunities. For industries that concentrate more on the durability of the container might need a heavier thickness for the container walls. On the other hand, industries that do not require much protection for the product inside, or need not fulfill any other requirement with a thick wall container, can use a regular plastic container. For instance, if your industry requires storing oil products, a rather thick wall can help protect the product, avoiding possible leakage whereas a product infrequent sale with limited expiration dates can pick a thin wall – regular plastic jars with lids wholesale option. Together with the thickness of the wall, make sure you better research the kind of liners you need, if you need them, so that you can sell your product inside and avoid leakage.
Sometimes your industry can have a popular choice for the kind of product you need to store and going by that choice may help you concentrate on the safety of the product and also face the market better. The reasons could be otherwise – like for instance certain cosmetic products are stored in a uniform container type for other particular chemical reasons. Same goes for certain pharmaceutical products and also different other personal care products. You may want to put particular attention to containers that have equal interests in storing as well as displaying. For instance, mason jars plastic make used as Candy Jars, plastic jars for the kitchen counter, etc may require a better design rather than a thick wall. So research your industry for different container specifications for your industry.
Containers can become the agent for market penetration as the packaging can create a market impression. So sometimes you may need to heavily concentrate on the jar more than the product itself and so you may require a high-end jar to better penetrate the market. For containers that can absolutely have a decorative purpose, there is a huge audience looking for jars for the shelf. The look and the feel of the jar, therefore, have much more attention than its container purposes. For a better-looking jar – people would want to match the content accordingly. So a market like that needs you to design your jar better that it gives out a wow first impression.
Conclusion
In conclusion, Plastic jars are very much required and even you could be looking for plastic jars wholesale option. For any of the industry, to supplement its requirements and specifically the product requirement, you will absolutely need to study your market. Better market research will help you define the kind of plastic jar you need for your specific product. For designing and choosing your plastic jar with particulars embedded you may also require getting expert help. However, always make sure you request a sample even after putting rigorous work on the design of your plastic jar because like it's mentioned before, a sample can really help you to get a realistic view of your container with which you need not worry about the rest of the plastic jars wholesale order.