We use different types of containers in our daily lives to store many things from food to small accessories. Because it is easy to organize them and place them where ever you want. So you can see very high demand for these containers in the market. And this demand is from a variety of industries and households as well. So if you are planning to buy these plastic containers for storage for your businesses especially, then you need to know where to find the best. But you need to know what to look out for when buying these containers as well. Because they need to fit the requirements you need from these containers. As a result, there are some factors you need to consider beforehand.
Therefore in this article, you will be able to learn about some of these major factors that you can look into and make an informed decision when it comes buy plastic containers for storage. So the following list is some of the exclusive factors that can affect businesses positively. Since there are countless benefits, we are only planning to mention the most influential ones here as it will take ages to write them all down here.
Top 5 Benefits of plastic containers for storage in businesses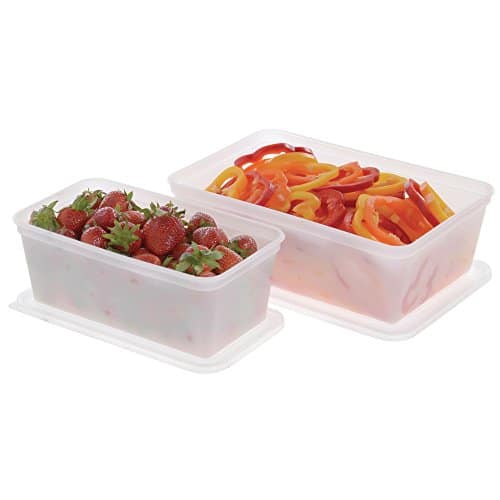 1. Creates more space
Organizing is a critical part when it comes to any business. So using plastic containers to store their products or materials can help them save more space in their inventory. Because you can organize them more efficiently than just piling up your products. And this situation is common for many products in the market today. For example, restaurants can use small containers to store their preps for foods and even use them as takeaway containers. So it will give them more space in the kitchen and the takeaway counter. And this is a major reason why there's a huge demand for plastic containers in the food industry.
2. Safeguard your products
The things you store inside plastic containers for storage have really good protection. Because they can safeguard the products from getting any damage from the outside. And this is a perfect example of why most people buy these containers even for their households. Since they can easily store and protect their valuables in one place from just storing them in one container. And the same goes for the business environment as well since they want the same feature for their products. Again you can take another example from the food industry as they plastic containers for storage to preserve the foods they make. Because they are the perfect containers to do this and that is why they have high demand in this regard as well.
3. Easy to maintain
Unlike other packaging solutions, plastic containers offer low maintenance. So they are easy to clean and maintain as you can use them for a long time as well. Because of this feature, it is the best container to buy if you are buying containers in bulk for your businesses. As if you were to buy glass containers, then you will have to put a lot of care to maintain them since they are more fragile. And it can be time-consuming while the glass containers can easily break during the maintenance process. But plastic containers do not have any of these issues and that is why many consider them the best solution for packaging and storage.
4. Reusable
Along with its maintainability and durability, there is another feature that people and businesses find useful. And this is the reusability of plastic containers for storage as you won't have to throw them away after a single-use. Because many other types of packaging similar to paper boxes or containers are unsuitable for reuse. But not with plastic containers as you can use them again and again with proper maintenance and as they are durable. And also, this reusability is good for sustainability as well since you don't have to buy more containers in the long run. So this can save you a lot of money and will make your business more sustainable as well.
5. Versatile
Plastic containers for storage comes in different sizes and shapes and are one of the most versatile products on the market. Because this is due to the high demand you can see in the market for them by many different industries. So you can find these containers in any length, width, height, and even shape that are suitable for different uses. And also, if you want a specific requirement from plastic containers that you can't find in the market. Then you can easily go for a manufacturer who makes custom containers and tell them your design. And you will be able to get them in a much shorter time, unlike glass, metal, or paper containers. This versatility is one of the most prominent features that many businesses want as they can fulfill their requirements for storage and packaging much more easily than the alternatives.
After reading the above list of features, now you might understand how great are for plastic containers for storage. And this is why you can see a higher demand for these containers in many industries. So if you are also someone who is in a field that requires a high-quality packaging solution for storing your products and accessories, then plastic containers are your best choice. But make sure you buy them from a good supplier to enjoy all these benefits. Since not every supplier provides a good product when it comes to this industry. However, you are at one of the best places to buy plastic containers of all types for storage and packaging in the industry.
Aohuan plastics – Come to us for your every plastic container needs

Aohuan plastic is a leading manufacturer of plastic containers in China. We make the highest quality containers that many of our customers from across the world purchase regularly. And we have won a lot of certifications and achievements over the years for our quality. You can also put your trust in us to provide you with some of the best plastic containers you will ever receive. And we will guarantee your products will shine with our containers. So come to us with any designs or sizes you want and we will make them into containers. Therefore contact us today and get all the information you need on buying plastic containers with lids wholesale with us.